Time for new curtains! Because I was pretty particular on how I wanted them to look, I had to make them myself. Don't worry, the light switch plate has been returned. :)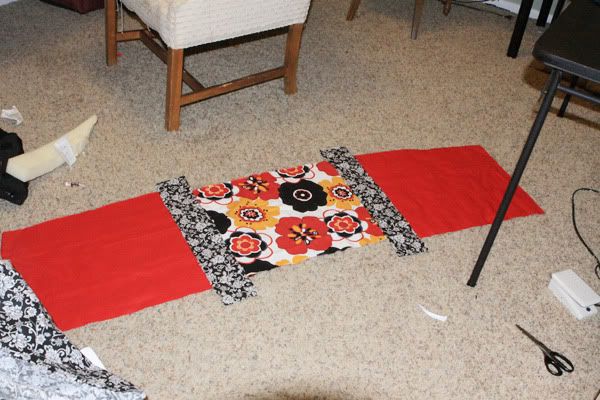 I was pretty impressed with myself that I could even do this, considering it's been one of my first sewing projects since high school. I felt like I should have pinned a gold star on my forehead but the act of pinning would have been quite painful so I didn't. Yea, I know you also see that tootsie roll on the floor, I polished an entire bag off- by myself. So anyway, to start your valance figure out how you want it to look. Then measure the window and allow about a 12 inches of extra material for it to gather once on the rod. Lay it out how you want it to look.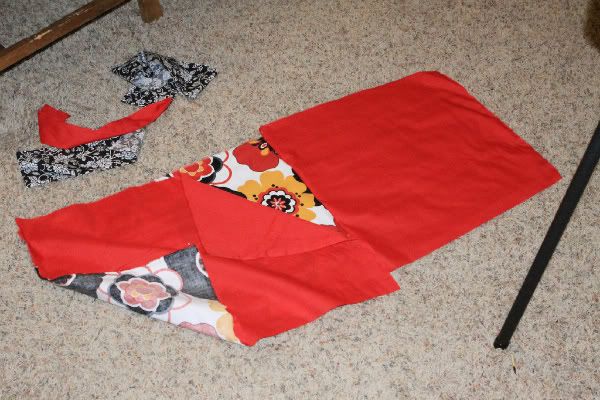 Because I wanted my black and white floral print to be ruffled I left it out for the next few steps. I took my main pieces and sewed them right sides together to make about a 1/4 inch seam.



I then finished one edge that you can see on the bottom to another 1/4 inch seam. I wasn't worried about the fabric edge that didn't line up pefectly because I was working with scraps and knew I was making a large seam for the top. I knew I wanted at least an inch of material above the curtain rod, plus the curtain rod was about 3/4" so I allowed an additional inch, so I folded it over and made the first seam 2" down from the top. If you're material doesn't match up just fold over the shortest to 2", the longer piece can be, well, longer.


After sewing the initial seam, I then sewed another seam 1' from the top. It should look like this. If you didn't want any ruffle at the top of the curtain, then you would just sew one seam, 1' down.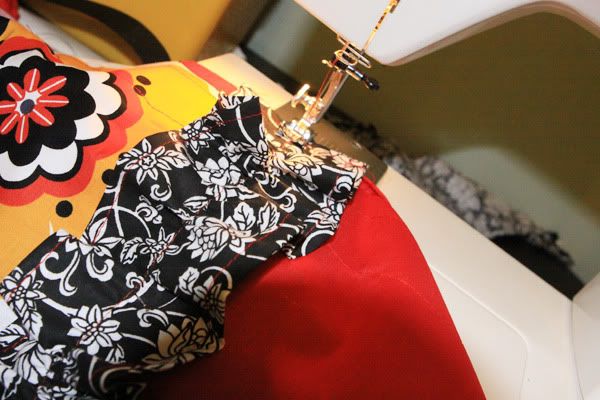 For my ruffles I just took the black strips and finished the edges with a 1/4 inch turn in. I sewed a basting stitch down the middle and used the bobbin thread to gather it. I then placed it on the curtain how I wanted to and sewed it down. *Important- don't sew over the curtain rod opening. You will have to sew from the bottom of the valance to the seam 2' down and back stitch. Then move your needle to the 1' seam and sew to the top and back stitch. Boy, I hope that made sense.


And voila! You're done. My rod is a cheapo one from walmart that was about $2, but it's hidden by the curtains so no biggie. The rod you see in this post over the doors is spray painted black. What do you think? I also promise to do a tutorial on the flowers from the previous post. Happy Thursday!